Opium Jazz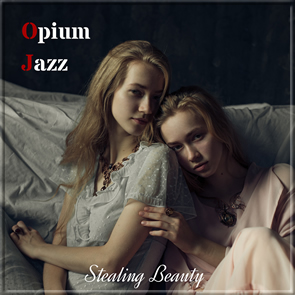 Opium Jazz, is a new music project by Ciarán Farrell. This first EP, entitled 'Stealing Beauty', features some of Ireland's top musicians, and crosses the divides of both classical, and jazz/blues genres. It includes performances by saxophonist Michael Buckley, flautist Sinéad Farrell, pianist Izumi Kimura, and drummer/percussionist Conor Guilfoyle. Farrell composed and produced the music, and he also performed the guitar, and bass parts on all of the tracks. 'Stealing Beauty', can be streamed from www.opiumjazz.com, and sheet music for the recording is also available on the site for download.
A follow up to this first instalment is also currently in the works, with a planned release for some time in 2020.
---
Redbrick Duo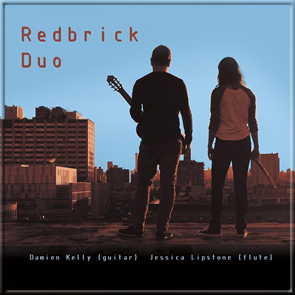 Redbrick Duo's debut album features the premiere of Ciarán Farrell's latest work for flute and guitar, 'Three Piece Suite', along with works by Astor Piazolla, Mark Delpriora, and Alan Thomas. Formed in New York City, having met at the Manhattan School of Music, Irish guitarist Damien Kelly and American flautist Jessica Lipstone bring a fresh approach to the guitar/flute combo. Their self-titled album is available in multiple formats and can be purchased from the following outlets:
Purchase Redbrick Duo (CD) from CDBaby
---
New Frontiers (Damien Kelly Performs the Guitar Music of Ciarán Farrell)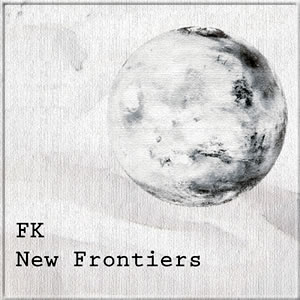 A whole new world of classical guitar music. Damien Kelly performs the guitar music of Ciarán Farrell.
'New Frontiers' is the second release from the Dublin based collaboration, 'Farrell Kelly'. Composer Ciarán Farrell breaks new ground for the classical guitar by utilizing bottleneck slides and digital delays in a way that has never before been done before on the instrument. This album takes the listener into a whole new world of guitar music.
Purchase the CD and you'll also receive the sheet music for all thirteen tracks on the album!
Purchase New Frontiers (CD) from The Contemporary Music Centre
Download New Frontiers from itunes
---
Jolt (feat. Damien Kelly)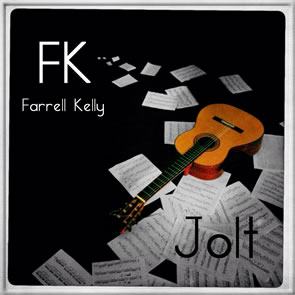 'Jolt' is the first release from the Dublin based collaboration, 'Farrell Kelly'. Guitarist Damien Kelly plays the classical/jazz infused compositions of Ciarán Farrell.
---
Perfect State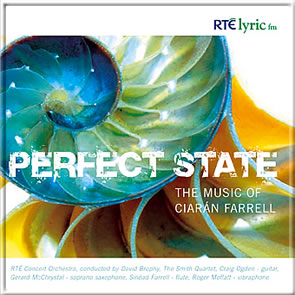 Melodic, rhythmic, contemporary and accessible – these are just some of the words that capture the beauty of Ciarán Farrell's music.

PERFECT STATE reveals the full depth and creativity of Ciarán's music from the pulsing string melodies in the title track, to the magical guitar and sax playing of Craig Ogden and Gerard McChrystal on The Shannon Suite a composition which the BBC Complete Guide to Classical Music described as mesmeric.

As the first full recording of Ciarán Farrell's music PERFECT STATE features a wealth of Irish and international talent including: the RTÉ Concert Orchestra, conducted by David Brophy, The Smith Quartet, Craig Ogden – guitar, Gerard McChrystal - soprano saxophone, Sinead Farrell – flute and Roger Moffat – vibraphone.
Download Perfect State from iTunes
Purchase Perfect State from Amazon
Purchase Perfect State from RTÉ shop
---
Pluckblow Music for Saxophone & Guitar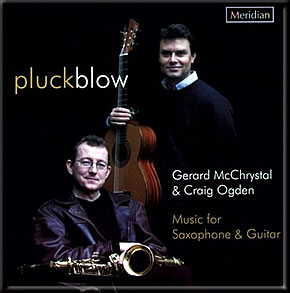 A compelling collaboration between virtuosos Gerard McChrystal (saxophone) and Craig Ogden (guitar). Folk, jazz and contemporary styles influence much of this album which features music from Ireland, Australia, UK and Germany. All of the music for this unusual instrumental combination has been specially written or arranged for the duo, including the latest version of The Shannon Suite.



Purchase Pluckblow from Gerard McChrystal
Purchase Pluckblow from Natural sound Recordings
Purchase Pluckblow from Amazon
---
E-Motion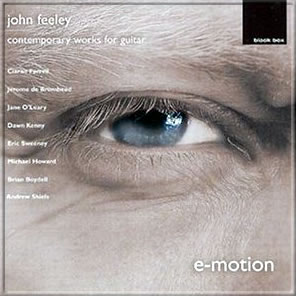 A superb collection of original works for guitar - performed by one of Ireland's finest guitarist. John Feeley has secured an international reputation as an astonishingly gifted player. Equally at home with traditional Irish music, contemporary works and popular classics, Feeley brings both passion and intimacy to his solo playing. This CD, (which contains works by a number of Irish composers), opens with the original solo guitar version of the critically acclaimed The Shannon Suite by Ciaran Farrell, written for John back in 1996.

Purchase E-Motion from Amazon
---
Shine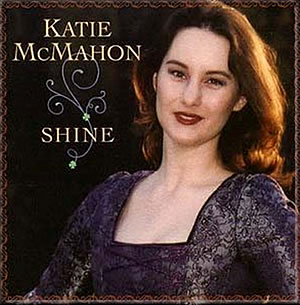 Katie McMahon is probably best known for her exquisite soaring soprano solo in the original Riverdance single, which topped the charts in Ireland for three months. Her voice was described by the Irish Times as "poetry, perfection and purity". She was also a featured soloist on Anuna's first two CDs and toured the world with Riverdance for some five years as their lead vocalist before embarking on her own solo career.

Shine is a recording of Celtic and Elizabethan songs for which Ciarán wrote the title track, 'Shine'.

Purchase Shine from Katie McMahon
---
Contemporary Music from Ireland - CMC
Volume Five in a series of promotional CDs issued without charge by the Contemporary Music Centre to provide a stimulating introduction to the work of Irish composers.
Includes an excerpt from the original RTÉ lyric fm broadcast recording of Hopkins on Skellig Michael.

Purchase Volume 5 from CMC
---
About Ciarán
Ciarán Farrell is a full time composer living and working in Ireland. On graduating from Trinity College Dublin he was dubbed by then head of department, Hormoz Farhat, as being, '...one of the most promising composition students I have had in a teaching career spanning some thirty five years.' Read more